Javascript Required
You need Javascript to use this page.
Installing British Stamp Organiser on a Mac

Thank you again for purchasing British Stamp Organiser 6.

It can be a bit tricky to get British Stamp Organiser installed on to a Mac we are working on a better way to do this but for right now please follow the instructions below.
Before you start please read all of the following steps first.

First, go to www.bfdc.co.uk/so/download and click on the 'Install British Stamp Organiser 6' button.

When you do this you should see the following window appear. Click 'Install'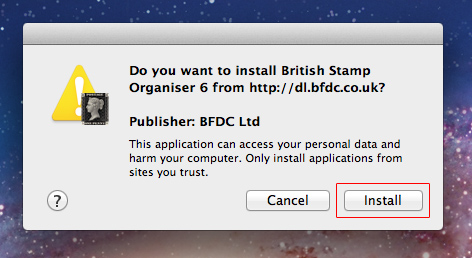 Now the British Stamp Organiser 6 is installed.
The only problem is by default it gets installed in the downloads folder.

So lets move it to the Applications folder.
Click 'Open Downloads Folder'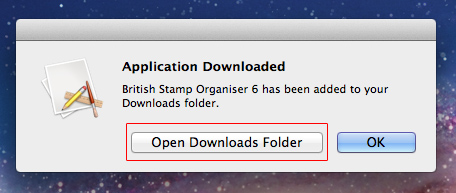 Now open you downloads folder.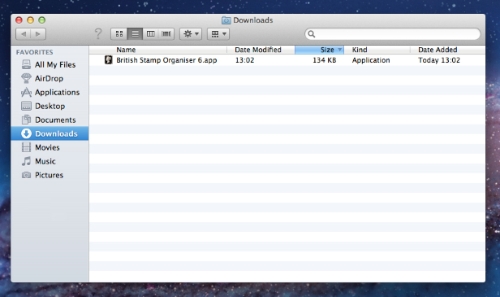 Also open your applications folder.
When you have both of these folders open on the screen drag the British Stamp Organsier App to your Applications folder.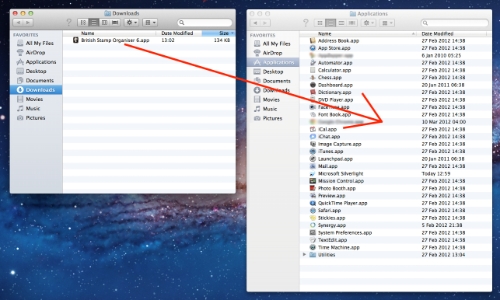 One you have done this double click on the British Stamp Organiser Application.
While the Application if running you can keep it in your dock by right clicking on the icon in the dock and options then 'Keep in Dock'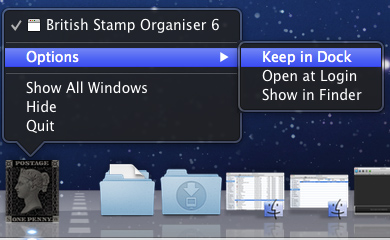 Now you can open British Stamp Organiser buy clicking on the icon in the dock.
If you have any problems please email us at support@bfdc.co.uk